Regular price
$6,999.00 AUD
Regular price
Sale price
$6,999.00 AUD
Unit price
per
Sale
Sold out
This simulator kit allows you to create a professional and highly accurate golf simulator driving range using the launch monitor of your choice and their Golf Driving Range App. There's also the option to upgrade to various golf course simulator software packages in the future, such as TGC2019 with over 150,000 courses (at additional cost)
Need Help? Call Us: 0480 020 411
View full details
Product Details
Introducing the BYO Launch Monitor Play Package: Unleash the golfer within you with this all-inclusive package designed for men aged 25-60. Transform any space in your house into a personalized driving range without the need for expensive simulators.
Available in:
Par 3 - 3m (W) x 2.6m (H) x 1.6m (D)
Par 4 - 3.6m (W) x 2.6m (H) x 1.6m (D)
Par 5 - 4m (W) x 3m (H) x 3m (D)
Par 5 Shallow - 4m (W) x 3m (H) x 1.6m (D) (NEW)

Included in the BYO Play Package:
24/7 Golf Simulator Bay Golf Enclosure: Constructed with commercial-grade materials, this enclosure offers a spacious and secure environment for your golfing sessions. Experience unrestricted swings and practice your skills without limitations.

Optoma GT1080HDR 4k Ultra HD Gaming Projector: Immerse yourself in stunning visuals with this state-of-the-art projector. Its 4k Ultra HD resolution brings your virtual golf course to life, providing exceptional clarity and realism.

TGC2019 Lifetime Package: Gain a lifetime subscription to the TGC2019 software package. Enjoy access to a wide selection of world-class golf courses, tournaments, and multiplayer modes. Enhance your skills and compete with players from around the globe.

Sim Master Premium Hitting Mat: Take confident shots on this premium hitting mat. Designed for durability and realism, it replicates the feeling of a professional golf course, providing an authentic experience every time.

Premium 4K Ultra HD 25ft HDMI Cable: Ensure seamless connectivity between your devices with our high-quality HDMI cable. Experience high-definition visuals without compromise.

Projector Mounting Bracket: The included bracket is designed specifically to fit the Optoma GT1080HDR projector. It ensures easy installation and optimal positioning for the best projection angle, allowing you to focus solely on your game.

Dual Band USB WiFi Adapter: Stay effortlessly connected with the dual-band USB WiFi adapter. Stream updates, download new courses, and access online features without interruption, maximizing your golfing experience.
Don't just take our word for it—our BYO Launch Monitor Play Package has garnered rave reviews from satisfied customers. Golf enthusiasts like you have praised the package for its exceptional quality, lifelike graphics, and immersive gameplay. Experience the revolution in home golfing and join the countless others who have already embraced this game-changing package.
Now is the perfect time to bring the driving range to your home. Embrace the value, convenience, and endless benefits of our BYO Launch Monitor Play Package. Make an inquiry today and embark on an incredible golfing journey with social proof and credibility-building elements.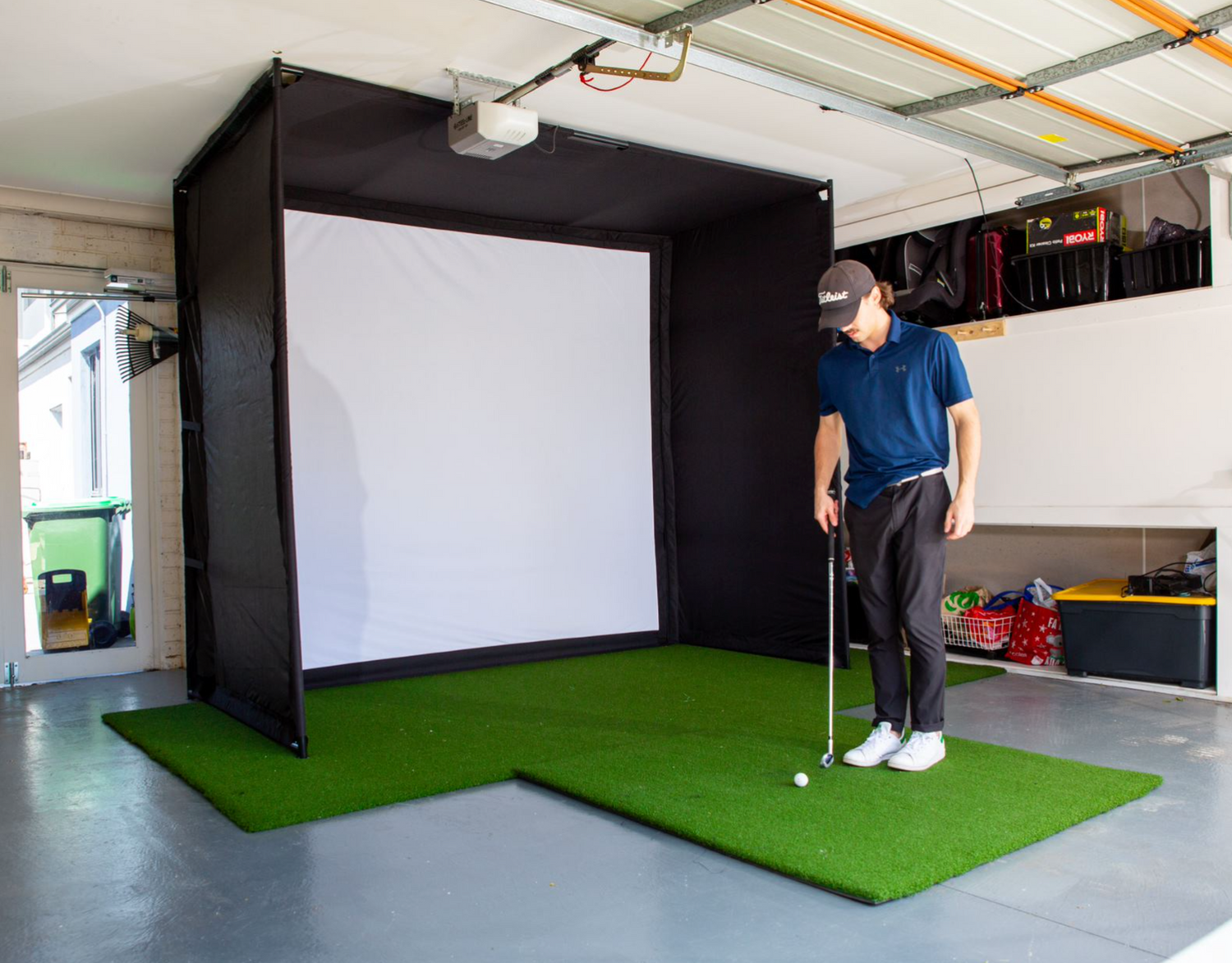 Use any launch monitor you want
There's never been a better time to get into the game of golf. With our BYO Launch Monitor Play Package, you can now enjoy driving ranges that are suitable for any space in your house without having an expensive simulator installed!
Course integration
FlightScope Golf App (FS Golf) - Included

This is your standard driving range software which displays all shot data, plots it on the range and includes dispersion circles. One awesome feature is the automated video clipping feature.

Mevo+ connects directly to your phone's camera, which you either place down the line behind the player, or parallel on the side, and automatically clips the video of your swing, then overlays the data of that swing on the screen.

This gives both players and coaches the opportunity to review both the physical swing combined with the outcome of the swing in one simple and quick interface.

Coaches can save these videos and forward to students, or, if Students own a Mevo+ themselves, can record the swings to submit to their coach online for review and coaching.
FlightScope Skills App (FS Skills) - Included

The is a skills test app. Users can choose from a variety of different pre-set skills tests, or create their own custom ones.

The skills app has users on the driving range once more, but has them aiming at targets set by the software, and ranks each shot.

At the end of each skills session the app will identify how well the golfer has performed, where they predominantly miss their shots etc, and gives them information to work on. It's practicing with precise purpose.
TruGolf E6 Connect (5 course lifetime) - Included

Apart from being a launch monitor, the Mevo+ is also a highly accurate golf simulator. Included at no extra charge is an E6 Connect lifetime subscription with five free real-life golf courses that players can use on their iPhone or iPad. They can even plug their device into a TV or projector to play at home. This is currently available for iOS only running iOS13.3 or later.
TGC 2019 (The Golf Club 2019)

To play rounds of golf, we strongly recommend TGC2019 (The Golf Club 2019). This is our top of the range software, with over 150,000 courses including Pebble Beach, St Andrews and many more famous courses. This option allows up to four golfers at a time to play rounds off varying tees so that appropriate options can be selected depending on age, gender or ability. TGC 2019 also requires a high spec gaming computer with at least the following specifications.

OS: Windows 7/10 64Bit
Processor: Intel Core i3/i5/i7 @ 3.20GHz or equivalent
Memory: 8 GB RAM
Graphics: NVidia GTX 1050TI (or better), for 4K NVidia GTX 1080 (or better)
DirectX: Version 11
Network: Broadband Internet connection (Required)
Hard Drive: 30 GB available space
Sound Card: DirectX 11 compatible
Creative Golf 3D

Another great option which combines both serious simulator golf with options for both beginners and children is purchasing Creative Golf 3D. Creative Golf 3D includes realistic real life golf courses from around the world, an outstanding array of practice options, and with the optional Golfisimo Add-On, pitch & putt, mini golf, and quite a few entertainment based practice modules such as dart golf and destruction golf.
E6 Connect (Full version)

E6 connect is one of the world's leading golf simulator course software provider and the Mevo + integrates perfectly with E6 Connect being fully compatible.. At 24/7 Golf we are an official distributor of their software and can offer installation support as well. Over 100 premium golf courses available and you can play against people form all over the world. Incredible graphics and the most realistic golf playing experience.