Regular price
$2,899.00 AUD
Regular price
Sale price
$2,899.00 AUD
Unit price
per
Sale
Sold out
Need Help? Call Us: 0480 020 411
View full details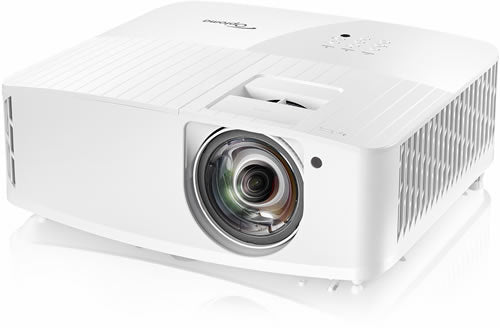 Product Details
Bright Short Throw 4K UHD Gaming Projector GT2160HDR
The Optoma GT2160HDR is a specialty short throw projector with an incredible 4K UHD resolution made for tight spaces to maximize image size. With a super short throw ratio of 0.496 it can project a massive 2 metre wide image from just 1 metre away. This makes the GT2160HDR perfect for smaller rooms and tricky installations where you need to get around an obstacle like a ceiling fan. It also makes it a great candidate for golf simulation where you need to avoid shadows from the golfer. The GT2160HDR isn't just incredible detail at a short range it is fitted with a plethora or great features like REC.709 colour reproduction, and 1,200,000:1 contrast for inky deep blacks. A long lamp life to minimize running costs and fast gaming modes making it perfect for high speed gaming.
GT2160HDR Features
First 4K UHD Short-throw Cinema Gaming Projector
Ultimate Gaming Experience supporting lighting-fast 240Hz refresh rate, and low 4ms Input Lag in Enhanced Gaming Mode
Bright Room Design with Brightness 4,000 lumens & 1,200,000:1 Contrast
Amazing Color for the Truest and the Most Accurate Colors
HDR 10 & HLG Supported for Brightest Whites, Deepest Darks, and Lifelike Colors
Auto detect and display Ultra Wide 21:9 screen for panoramic view
HDMI 2.0 Support for Connection to 4K Entertainment
Featuring the lightning-fast refresh rate and the low input lag, GT2160HDR is perfectly quenching your desire for the ultimate home entertainment, no matter in movie watching or gaming. With true 4K UHD resolution, GT2160HDR will bring the immersive cinema and gaming experiences up to 300″ screen. The different display options also allows optimized performance in cinema mode, gaming mode, or 3D mode, delivering images and motions with ultimate smoothness and clarity.
Optoma Game Master
What is True 4K UHD
At least 8 million active pixels
The Consumer Technology Association (CTA)® definition of 4K Ultra HD resolution states the display resolution must have at least 8 million active pixels.

Optoma True 4K UHD
Optoma GT2160HDR True 4K UHD projector is powered by a revolutionary Texas Instruments 4K UHD DLP Chipset featuring a high performance DMD utilizing XPR video processing technology with fast switching to display 8.3 million pixels (4x the number of pixels of 1080P) as mandated by the Consumer Technology Association's 4K UHD specification.
Image Comparison
Optoma's True 4K UHD projectors deliver accurate, razor sharp, high quality images by leveraging its DLP 4K UHD chip and XPR technology.
- Clarity & Image alignment comparison -
True Colors Tell The Realistic Stories.
GT2160HDR achieves vivid and stunning color performance with 4,000 high lumens of brightness. Optoma's specialized color calibration and adjusting technologies exceeds HDTV Rec. 709 standards to present the truest and the most accurate colors, for authentic, and in-depth storytelling images. This is a 4K HDR high resolution home theater that you will not want to miss out!
Optoma HDR - HDR10 / HLG
GT2160HDR supports HDR10 and HLG. When a HDR/HLG signal is imported, the projector automatically switches to HDR / HLG display mode. Through Optoma's HDR color mapping and tone mapping technology, it enables HDR / HLG movies or games to be presented with optimized performance in the accurate color and dynamic contrast.
HDR / HLG Picture Mode
HDR, High Dynamic Range, is a standard that comes with a higher dynamic range in video signals, allowing the image to be shown with more brightness and color without losing any details. GT2160HDR allows users to adjust the dynamic range according to the video content or environment.
Enrich Your 4K Entertainment
GT2160HDR supports two HDMI 2.0 for any external 4K devices e.g., Apple TV 4K, PS4 Pro, and XBOX One X.
The Smart and Simple Way to Watch Movies
Watching movies is easy. With the touch of a button, switch to "Cinema" display mode, image performs true to life with high contrast by the specific Gamma curve and color gamut. In the meantime, it activates Brilliant Pulse on Red function to make the light pulse project onto the red segment of the color wheel. Red enhancement reproduces closer to natural skin tones, better color saturation and a more enjoyable viewing experience.
Dynamic Black
Dynamic Black can accurately control light bulb output power and automatically adjust it based on different image brightness. There is no need to use an aperture ring to adjust for dark scenes. With Auto Gain function, details are more pronounced and an increase in contrast ratio of nearly three times is achieved. This means that images appear true to life with dramatic increase in contrast.
Why we need Immersive True 4K gaming Experience?
Having fun playing multi-player games with friends and family
Display on 60" TV
Even though the images are displayed in 4K, it is still hard to read the details due to the small size of the TV screen.
Display on 120" Projector
Large image shown on the wall makes everything easy to read.
[ Game ] Display Mode Something Hidden in the Dark
Shadow Boost. All-day simulations
In Optoma's Color Lab, simulations were carried out for gaming in different ambient light settings to calibrate and boost the details in the dark and develop the exclusive "Game" display mode. This means that gamers can avoid getting stuck at a certain level, as they can clearly find the gimmick hidden in the dark.
HDR Effect
If game content supports HDR format, GT2160HDR automatically switches to "HDR" display mode for optimal HDR images. If not, GT2160HDR provides "HDR Sim" display mode to achieve HDR-effect images for the richest color gamut and sharpest contrast, without sacrificing any detail.
Lightning-fast 240Hz Refresh Rate
The refresh rate is the number of times your display device updates with new images in each second. 240Hz means 240 times per second. The higher the refresh rate, the more frames your monitor can display in each second and the smoother your on-screen image can be shown.
Comfort and Ultra Smoothness
A low refresh rate would actually result in the display visibly flickering as it updated. This causes gamers feel dizzy or uncomfortable. From the testing results, the difference is noticeable even when character just walk around in the game.
GT2160HDR is the lightning-fast projector with 240 Hz refresh rate, producing great picture quality for fast gaming action with virtually no motion blur. It is just perfect for gamers playing game for many hours.
Focus and Win
With 240Hz refresh rate, GT2160HDR supports video motion with the ultimate smoothness and clarity. You will never miss your target. Just focus and win the games.
Lag-Free Gaming
4ms Input Lag
For party games or PC gamers, GT2160HDR is the first choice in Optoma True 4K UHD projector. It incorporates "Enhanced Gaming" mode with super low input lag. Gamers enjoy low-latency between operation of controls and win the game in milliseconds.
Note:
1.Output format: Only for 1080P 240Hz signals.
2.The input lag by signals is described in the left table.
3.The values in the table can vary slightly.
4.In order to reach minimum response time, when using Enhanced Gaming mode, the features such as keystone correction, image shift, and edge mask will be disabled.
Input lag & Gaming Performance
Keep Eyes Safe And Comfortable
Projector screens actually are better for your eyes. Projectors are able to produce much larger images, which put less strain on your eyes. In addition to this, projected images are reflected light while TVs are direct light which gives more eye strain.
3D Worlds Behind The Walls
Projecting on Any wall
Six color compensation are provided to suit different types of wall spaces in the home and avoid distortion of colors. Even in the absence of a projection screen, images can be viewed on a wall space with the most accurate color gamut.
Flexible Adjustment
27dB Quiet Fans
In Eco Mode, only the quiet-running fans emit 27dB. Movies can be viewed without interference from projector operating noise.
---
Specifications
| | |
| --- | --- |
| Aspect Ratio | 16:9 (native) 4:3 and auto compatible |
| Display Technology | DLP 4K UHD chip |
| Native Resolution | 4K UHD (3840 × 2160) |
| Brightness | 4,000 Lumens |
| Contrast | 1,200,000:1 |
| Light Source | Lamp |
| Lamp Life | 4,000/10,000/15,000 hours (Bright/STD/DynamicBlack) |
| Throw Ratio | 0.496 |
| Zoom Type | Fixed |
| I/O Connectors | HDMI 2.0(HDCP2.2 / 4K 60Hz compatible) x2, USB 2.0 (for 5V PWR 1.5A/ firmware upgrade) x1, RS-232C male(9-pin D-SUB) x1, Audio Out 3.5mm x1, S/PDIF Out (2 Channel Stereo PCM) x1, 12V Trigger(3.5mm jack) x1 |
| Speaker (Watts) | 10W |
| Weight (Kg) | 5.0 kg |
| Dimensions (W x D x H) (mm) | 315 x 270 x115 mm (w/o feet), 315 x 270 x118 mm (w/ feet) |
| Aspect Ratio | 4:3, 16:9, 21:9, 32:9, LBX |
| Projection Screen Size | 36.4" ~ 300.5" |
| Projection Lens | F# 2.8, f 7.51mm |
| Uniformity | 80% |
| Horizontal Scan Rate | 31~135KHz |
| Vertical Scan Rate | 24 – 120Hz (1080p/240Hz at Enhanced Gaming Mode) |
| Displayable Colors | 1073.4 million colors (10 bit) |
| 3D Support | 3D Ready |
| Noise Level | 27 dB (Eco mode) |
| Power Supply | 100–240V, 50–60Hz, auto-switching |
| Power Consumption | Bright: 300W (typical), 330W(max)@110VAC, 290W (typical), 320W(max)@220VAC; Eco Mode: 210W (typical), 231W(max)@110VAC, 200W (typical), 220W(max)@220VAC |
| RoHS | Compliant |