Regular price
$8,499.00 AUD
Regular price
$9,045.00 AUD
Sale price
$8,499.00 AUD
Unit price
per
Sale
Sold out
If you're looking for the ultimate practice experience, you've found it right here with SkyTrak. The Skytrak Golf Simulator Enclosure Package is our most popular simulator solution, specifically designed for conventional spaces such as single car garages, spare bedrooms, pro shops, conference rooms etc. This package combines the cutting-edge SkyTrak Golf Simulator Launch Monitor with a range of valuable accessories to take your game to new heights.
With SkyTrak's advanced photometric technology, you can accurately track and analyse crucial shot data, including ball speed, launch angle, and spin rate. The Practice Package includes a hitting mat, net, and software subscription, providing a complete setup for indoor practice sessions. Whether you're a seasoned golfer or a beginner looking to improve, the SkyTrak Practice Package offers an immersive and effective training solution to elevate your performance. Buy online at 24/7 Golf today. 
Need Help? Call Us: 0480 020 411
View full details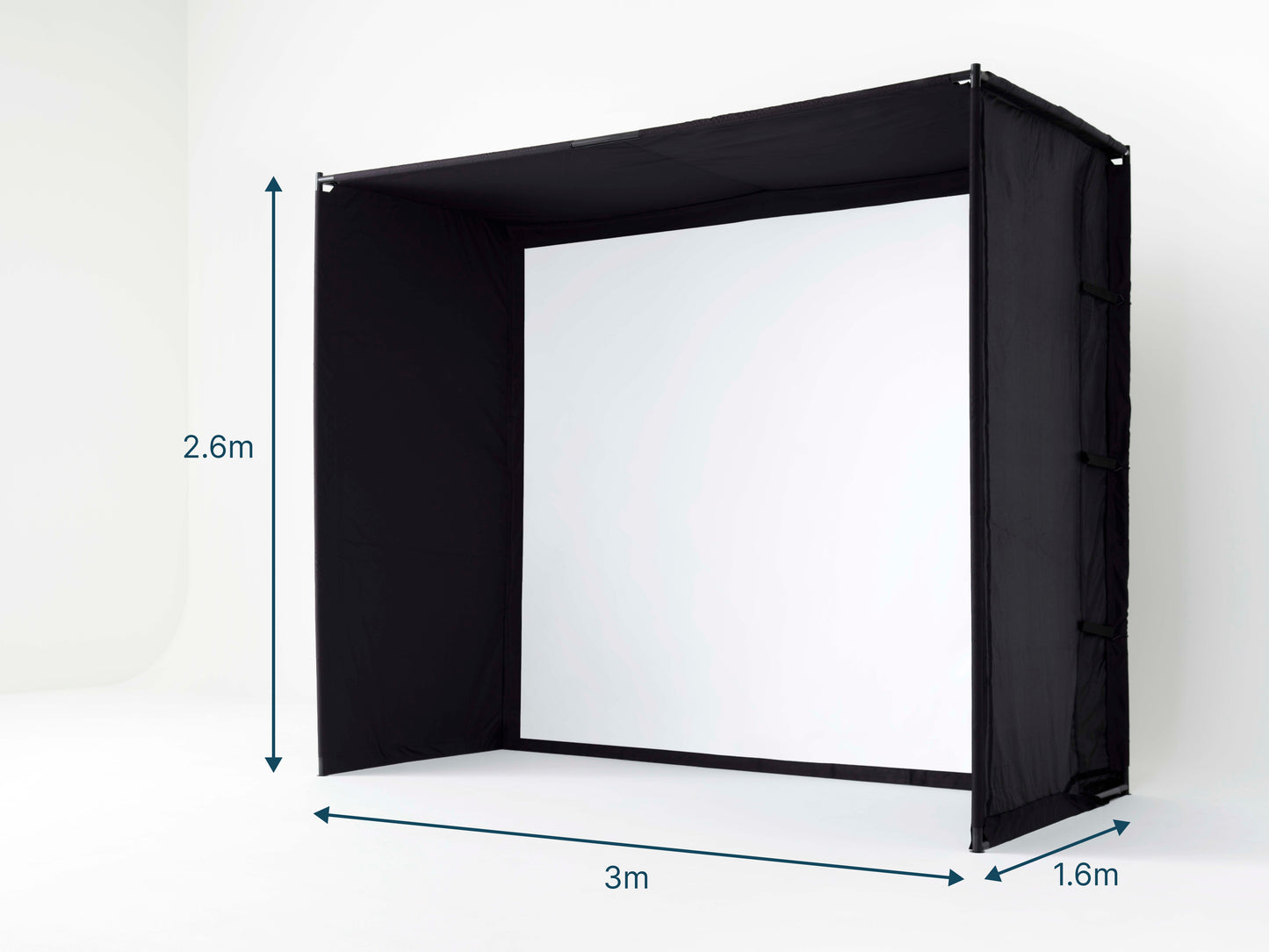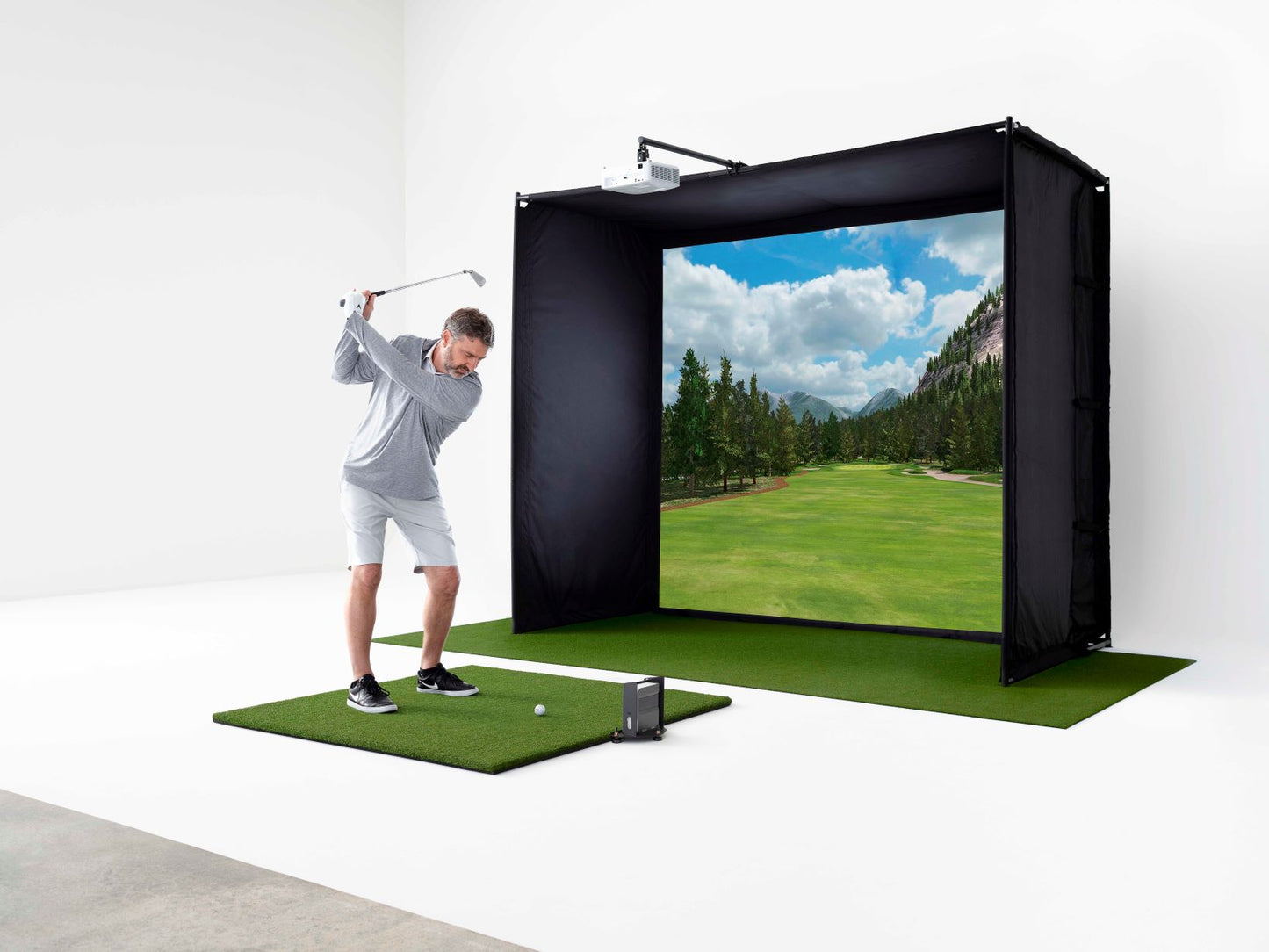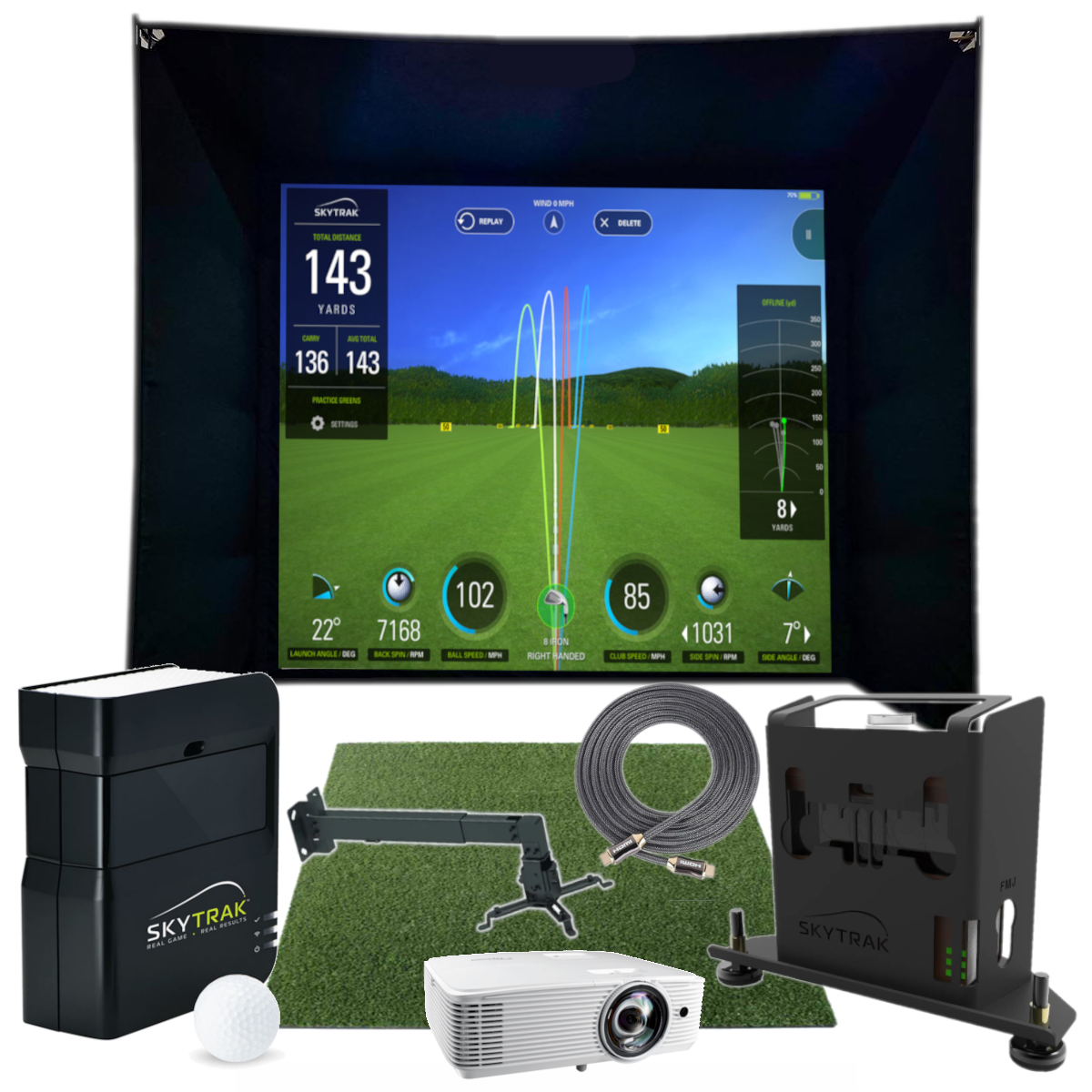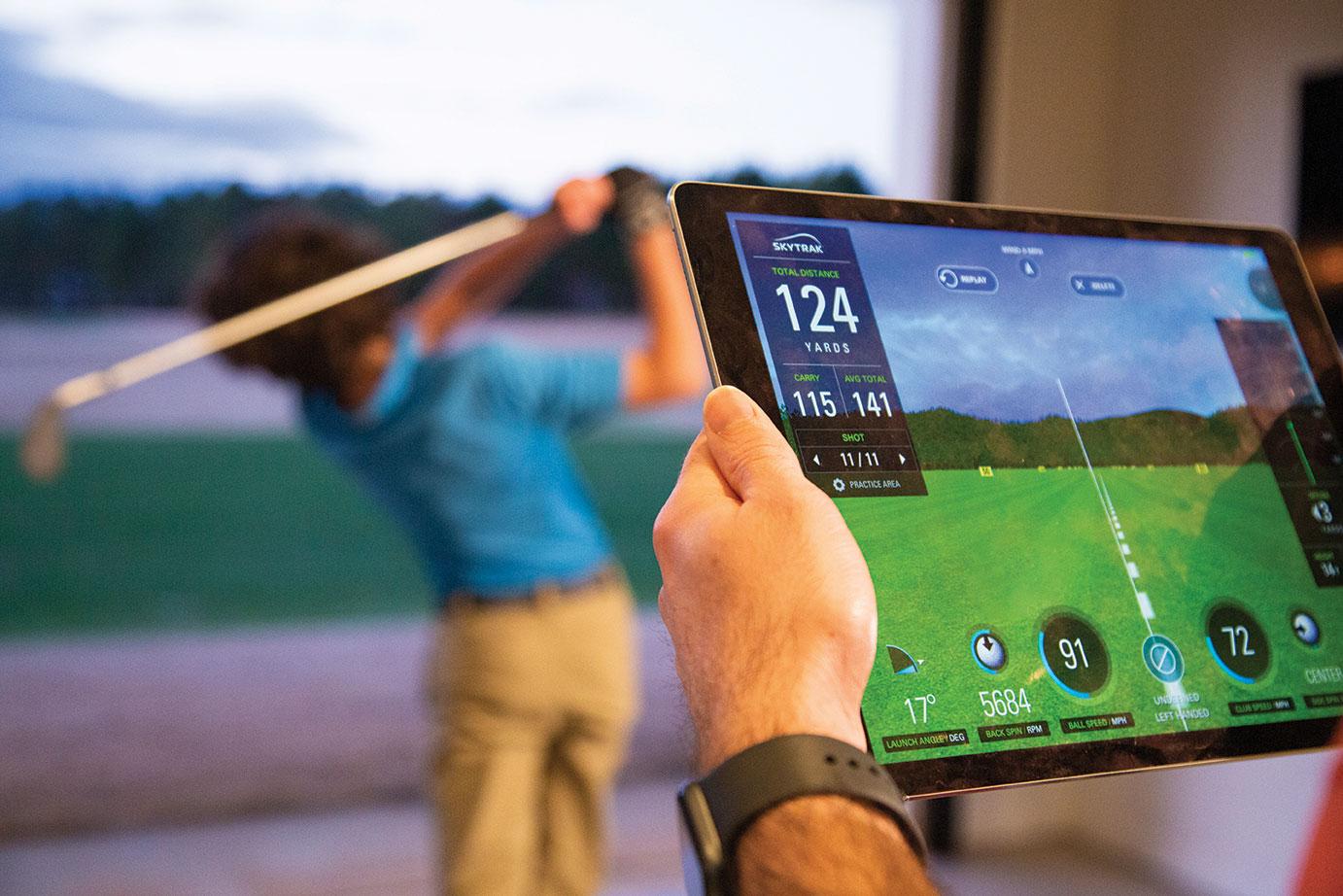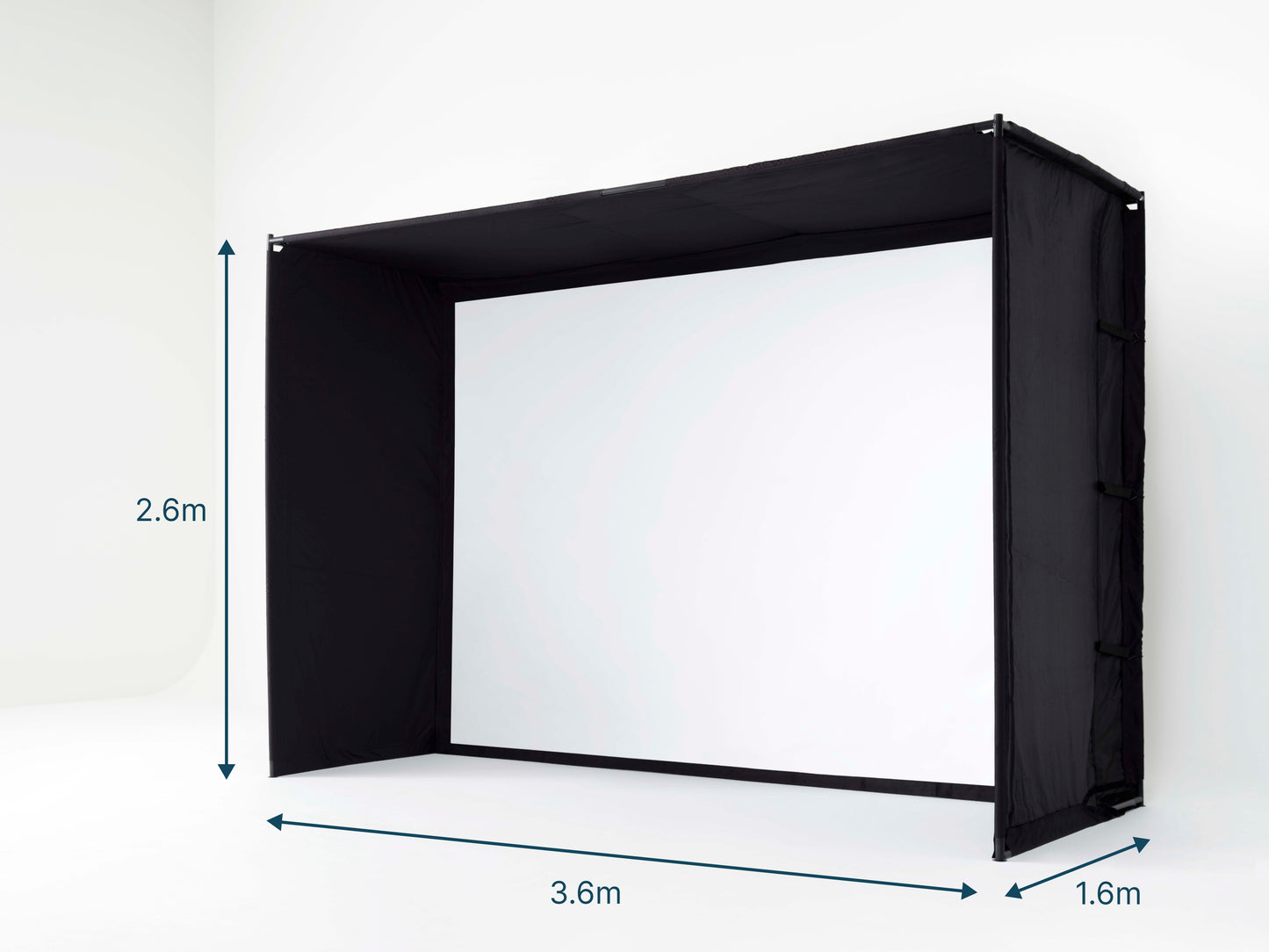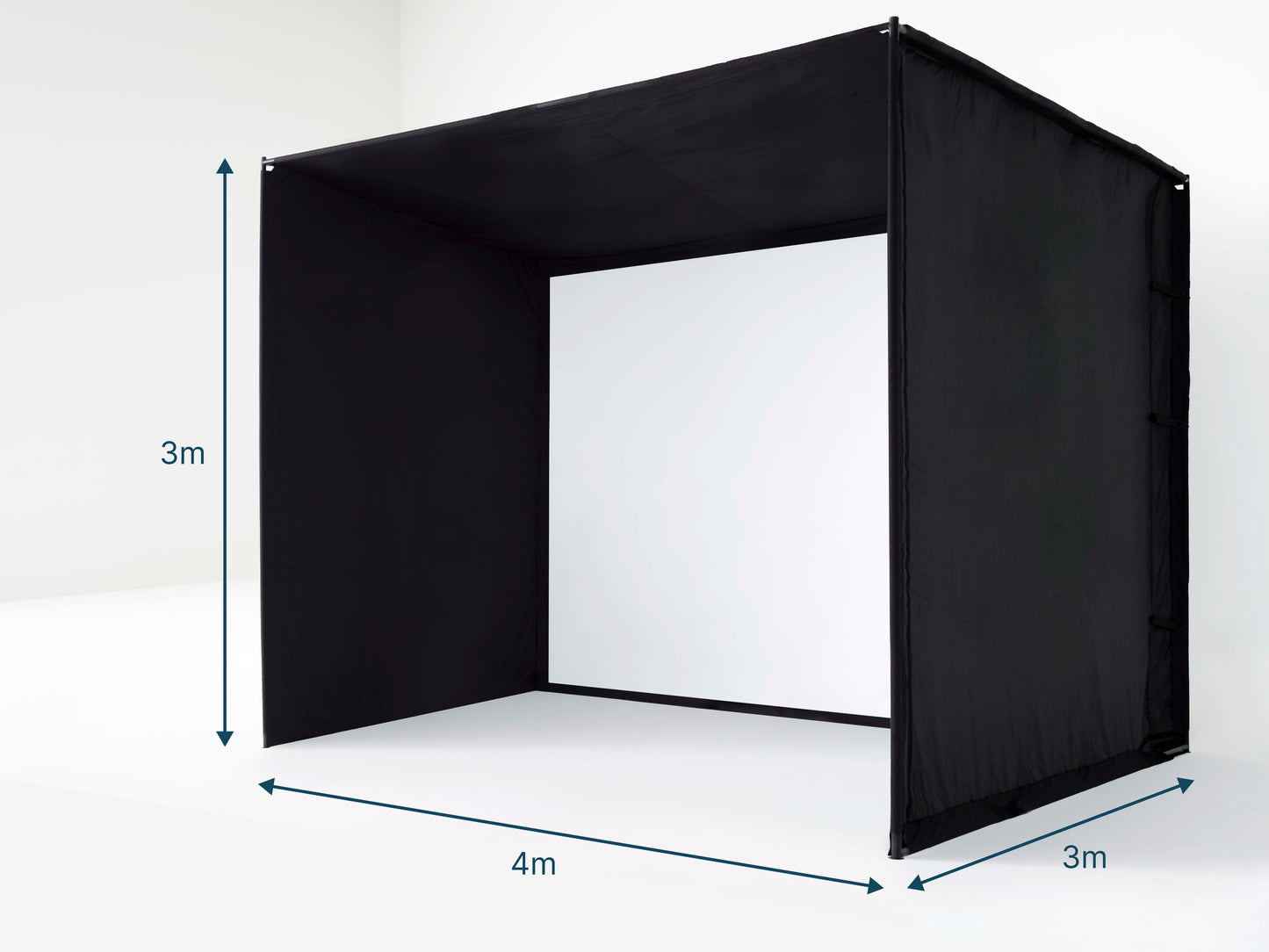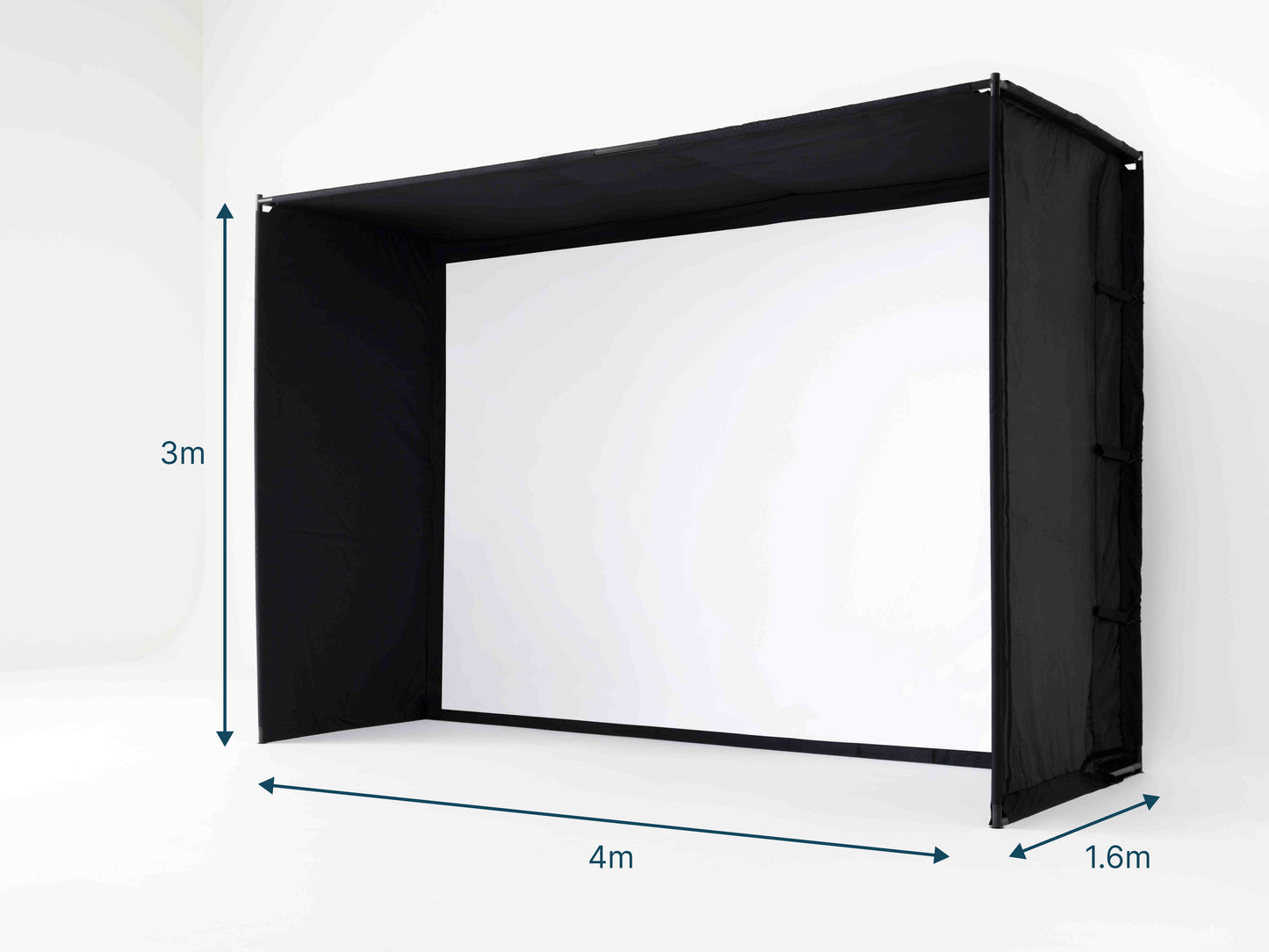 What is SkyTrak?
Introducing the SkyTrak Golf Launch Monitor and Simulator – your ultimate real-time companion for golf practice and improvement. This compact device delivers instant 3D shot analysis and precise ball flight data. With the high-definition simulation package, your SkyTrak experience becomes even more immersive. Experience the thrill of receiving immediate shot launch data and visual feedback on your ball's flight within seconds. SkyTrak's portability allows you to enjoy year-round practice and play indoors, be it in your home, garage, or office. Engage in friendly competitions, surpass personal records, and hone your skills with captivating games and challenges. SkyTrak provides professional-grade reliability, accuracy, and authentic simulations at a fraction of the cost, making it the perfect choice for golf enthusiasts.
Check out SkyTrak's other products, including the SkyTrak Play Package and other bundles.
Reliable, Accurate, and Authentic Simulations
PHOTOMETRIC TECHNOLOGY+

SkyTrak, a camera-based launch monitor, captures high-speed images immediately after impact. Images are used to measure parameters that will allow shot shape and distance to be rendered.
PORTABLE DESIGN+

SkyTrak can go wherever you are. You can practice and play in your own home, even in a small space, rain or shine, 24/7. You can swing the ball by placing it on a mat or on level ground.
CUSTOMIZABLE CONDITIONS+

SkyTrak allows you to input a number of variables and environmental factors, such as weather conditions and course conditions. This allows for more accurate shot analysis and simulates real-world golf.
TRACK PERFORMANCE+

SkyTrak accurately records, displays and compares your ball flight data. The key parameters of measurement include ball speed, launch angle side spin, back spin side spin and many more.
WIRELESS DESIGN+

It is equipped with a rechargeable battery that can be used to charge the system and acts as its Wi-Fi hotspot. This allows it to operate without any wires, cables, or tethering. You can connect wirelessly to any device and instantly generate launch data.
SIMULATION-ENABLED+

You can add a simulation package to enjoy a real-life golf course experience at your home using your own clubs. Simulator is available for iOS and PC.
Why is SkyTrak perfect for indoor use?
Experience the accuracy of real-time ball flight data with SkyTrak, eliminating the need for ball-mounted measuring devices. Simply swing away and locate the red dot, removing any confusion. Access a diverse range of software and a mobile app, offering virtual driving ranges and game improvement features. As a trusted partner of popular simulation software, choose your preferred playing location. With its durable battery and versatile connectivity options for Android, iOS, and PC, SkyTrak is highly portable. Design your sim room freely, ensuring data and results remain unaffected by variables. A proud recipient of four Golf Digest "Best in Golf" awards and recognised as the "Best Indoor Golf Simulator" by My Golf Spy, SkyTrak's performance has been tested and proven by countless golfers.
A User Manual: How To Use SkyTrak Launch Monitor
Using SkyTrak is a breeze! Start by registering your unit and ensuring it's charged using the provided USB cable.
For indoor practice, select a hitting area of at least 10'Wx10'D, considering your height and club dimensions for a safe ceiling clearance.
To ensure accuracy, use a golf hitting pad to level your SkyTrak device within your hitting area, keeping it approximately 12-14 inches away.
Download the free SkyTrak App on your iOS/Android device and establish a connection with your SkyTrak Launch Monitor.
If there's no Wi-Fi available, don't worry! SkyTrak will store your data and synchronise it with your historical records once you have a Wi-Fi connection.
For optimal performance, use clean, new, and flawless white golf balls with your logo.
To obtain precise spin data readings, position the ball at the SkyTrak laser point and ensure the ball's logo faces the SkyTrak lens.
With these simple steps, you'll be ready to enjoy the accurate and immersive experience offered by SkyTrak!
SkyTrak Basic Practice Plan (which is included for free with all SkyTraks)
The Basic Practice Range package allows you to practice hitting the balls with any of your clubs at any time. It also displays a 3D rendering of your ball flight. You can work on your ball-striking skills, shot-shape and launch angle as well as your carry and spin rate, without ever leaving your house or spending too much time at the range.

3D Practice Area with Shot Tracer – Get a better view of your shots, and the results of your swing hitting the ball with your clubs with than you would at the range.
Ball Performance data: Each shot's ball flight data is automatically captured and displayed. This includes: Ball speed, launch angle and back spin as well as side angle (deviation to target line). Additionally, you will receive the club head speed and carry distance as well as the distance offline from the target line and total shot distance.
First Person Camera with Shot Tracer: Track your shot shape in the air as you view the ball fly down the line.
Replay: To see the great drive over again, or to analyze the one that you'd rather forget, touch the replay button.
Registration: Registers your SkyTrak for security purposes in the event of theft or loss. You can also get bug fixes and updates as they become available.
FAQ
What golf software is the SkyTrak Practice Package compatible with?
The SkyTrak Practice Package is compatible with a wide range of golf simulator, offering you flexibility and options to enhance your practice experience. Some popular simulator that are compatible with SkyTrak include The Golf Club, WGT Golf, Jack Nicklaus Perfect Golf, TruGolf E6 and Creative Golf 3D.
What are the key features of the Skytrak Practice Package?
The SkyTrak Practice Package offers a range of key features to elevate your golf practice sessions. Here are the highlights:
Real-Time Ball Flight Data: SkyTrak provides accurate, real-time ball flight data, including key metrics such as ball speed, launch angle, backspin, sidespin, and more. This data allows you to analyse and fine-tune your shots effectively.
Comprehensive Shot Analysis: The Practice Package offers detailed shot analysis, giving you insights into shot shape, carry distance, total distance, and other important parameters. This helps you understand your strengths and areas for improvement.
High-Definition Simulation: Experience immersive gameplay with the high-definition simulation package included in the Practice Package. Play on virtual golf courses, enjoy multiplayer options, and challenge yourself with various game modes.
Portable and Easy Setup: SkyTrak's compact design makes it portable and easy to set up. You can practice golf indoors, whether in your home, garage, or office, at your convenience.
Software Compatibility: The Practice Package is compatible with a wide range of golf simulation software, allowing you to choose the one that suits your preferences and provides the most engaging experience.
Mobile App Connectivity: Connect your iOS or Android device to your SkyTrak Launch Monitor using the free SkyTrak App. This enables you to view and analyse your shot data on your mobile device for instant feedback.
How does SkyTrak Practice Package compare to other similar ones on the market?
The SkyTrak Practice Package stands out among similar offerings in the market due to several compelling factors:
Accuracy and Realism: SkyTrak's advanced photometric technology delivers accurate and realistic ball flight data, providing golfers with a highly authentic practice experience.
Versatility and Compatibility: The Practice Package is compatible with a wide range of golf simulation software, offering flexibility and options to suit individual preferences and needs.
Portable and Easy Setup: SkyTrak's compact design and ease of setup make it convenient for indoor practice sessions. Its portability allows golfers to practice in various locations, such as their home, garage, or office.
Immersive Gameplay: With the included high-definition simulation package, golfers can enjoy immersive gameplay on virtual courses and engage in skill-building games and challenges.
Data Analysis and Feedback: The Practice Package provides comprehensive shot analysis and instant feedback, empowering golfers to identify areas for improvement and refine their skills.
SkyTrak Golf Course Play
SkyTrak Golf Course Play
SkyTrak's Game Improvement Software lets SkyTrak integrate with other golf simulation software vendors like World Golf Tour and TruGolf E6 Connect. Each of these software allows you to play at the best golf courses around the globe, all from your home. After you have received your launch monitor, activate the Game Improvement Software Plan, and paid an additional fee to the SkyTrak Game Improvement Software Plan, the golf simulation software vendors will need to be purchased from SkyTrak directly. You can now open a new world of game improvement practice and hours spent entertaining off the course.
Launch Data Accuracy:

Ball Speed: 0 – 200mph +/- 1mph

Launch Angle: 0 – 55° +/- 1°

Back Spin: 0 – 12,000rpm +/- 250rpm

Side Spin: 0 – 4,000rpm +/- 250rpm

Side Angle: 0 – 20° +/- 2°

Power and Battery:

Built-in rechargeable lithium-ion battery

Up to 5 hours of continuous use

Micro USB charging cable included

Wireless Connectivity Options:

Connects directly to iPad Wi-Fi (NO Internet access in this mode)

Connects to iPad Wi-Fi through router/home network (Internet Access available)

SkyTrak Specifications:

Dimensions: 5.75″L x 6.75″H x 2.5″W

Weight: 1.7 lbs